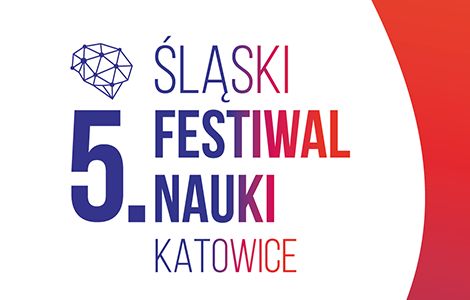 from 09-10-2021
from 18:30
Author: Anna Orłowska
Published at: 13.10.2021
Last update: 13.10.2021
Silesian Science Festival
The fifth edition of the Silesian Festival of Science will be held this autumn, from 9th to 15th October, in an exceptional and perhaps unique formula: the festival audience will be invited to the Rawa boulevards in Katowice for one day, and for five consecutive days to the Internet space. One of the special zones of the 5th WIFF will be dedicated to the outstanding science fiction writer Stanisław Lem.
The 5th Silesian Science Festival KATOWICE is organized by: Silesian University in Katowice (the leader and originator of the project), the City of Katowice (the host city of the event), the Upper Silesian-Zagłębiowska Metropolis and the Marshal's Office of the Silesian Voivodeship (co-hosts), as well as the Silesian University of Technology, the Silesian Medical University, the Jan Długosz University of Humanities and Sciences in Częstochowa. Jan Długosz University in Częstochowa, Jerzy Kukuczka Academy of Physical Education in Katowice, Academy of Fine Arts in Katowice, Częstochowa University of Technology, University of Economics in Katowice and University of Bielsko-Biała.
Within the framework of the Silesian Science Festival, the Centre for Foreign Languages has prepared an online workshop for students aged 7-12: "The Braille Alphabet, trivia and interactive games with absent-minded Professor Einstein and his intelligent assistant Mrs. Schlau from the Children's Internet University. The workshop will take place on 13.10.2021 from 13.00 -14.00. If you are interested, please contact Ms. Irena Szlezinger: irena.szlezinger@polsl.pl
We invite you to participate!