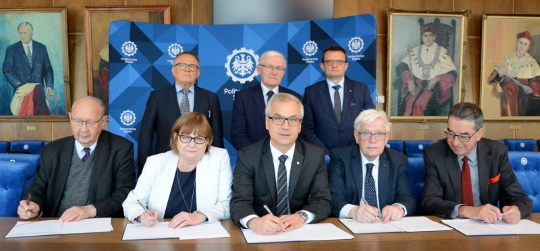 As part of the Doctoral School, the Joint Doctoral School has started to operate. The agreement on the establishment and operation of a doctoral school under the name "Joint Doctoral School" was signed on 30 May 2019 by the Rector of the Silesian University of Technology, Prof. Arkadiusz Mężyk, and the directors of research and development units from the region - the Central Mining Institute, the Institute of Theoretical and Applied Computer Science of the Polish Academy of Sciences, the Institute of Fundamentals of Environmental Engineering of the Polish Academy of Sciences and the Centre of Polimer and Carbon Materials of the Polish Academy of Sciences.
The signed agreement defines, among other things, the scope of competencies of the respective parties, the rules of recruitment, the duties and competencies of the director of the doctoral school and the possibility of new units joining it and resigning from cooperation. The parties agreed that the Silesian University of Technology will be the coordinating unit of the doctoral school. A person with a professional degree of Master of Science, Master of Engineering or equivalent may be admitted to the school. Recruitment to the school will be done through a competition.
The Joint Doctoral School will provide education preparing for the award of a doctoral degree in the following scientific disciplines:
architecture and urban planning,
automation, electronic and electrical engineering,
biomedical engineering,
information and communication technology,
civil engineering and transport,
chemical engineering,
materials engineering,
mechanical engineering, 
environmental engineering, mining and energy,
chemical sciences,
management and quality sciences,
medical sciences.