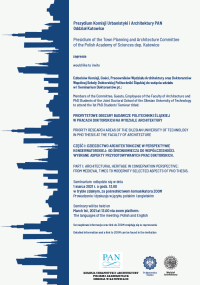 Author: System
Published at: 23.02.2021
ZAPROSZENIE
W imieniu Prezydium Komisji Urbanistyki i Architektury PAN o/Katowice zapraszam
Członków Komisji, Gości, Pracowników Wydziału Architektury oraz  Doktorantów
Wspólnej Szkoły Doktorskiej Politechniki Śląskiej do wzięcia udziału w I Seminarium Doktorantów pt.:
 Priorytetowe Obszary Badawcze Politechniki Śląskiej w pracach doktorskich na Wydziale Architektury.
Część I: Dziedzictwo Architektoniczne w perspektywie konserwatorskiej:
od średniowiecza do współczesności. Wybrane aspekty przygotowywanych prac doktorskich.
Spotkanie odbędzie się w dniu 1 marca 2021 r. o godz. 13.00 w trybie zdalnym, za pośrednictwem komunikatora zoom.  Prowadzenie i dyskusja  w języku polskim i angielskim.
INVITATION
On behalf of the Presidium of the Town Planning and Architecture Committee of the Polish Academy
of Sciences dep. Katowice, I would like to invite Members of the Committee, Guests, Employees of the Faculty of Architecture  and PhD Students of the Joint Doctoral School of the Silesian University of Technology
 to attend the 1st PhD Students' Seminar titled:
Priority Research Areas of the Silesian University of Technology in Phd thesis
at the Faculty of Architecture
 Part I:  Architectural Heritage in Conservation Perspective: from Medieval Times to Modernity
 selected aspects of PhD thesis. 
Seminary will be held on March 1st, 2021 at 13.00 via zoom platform.
The languages of meeting: Polish and English.
Topic: KUiA PAN - 1.03.2021
Time: Mar 1, 2021 01:00 PM Warsaw
Join Zoom Meeting
https://zoom.us/j/91221485025?pwd=N1ZKc1BxaXViTjREbFZ6cnNWSGk0Zz09
Meeting ID: 912 2148 5025
Passcode: 941042
Dr hab.inż.arch. Dorota Winnicka-Jasłowska, prof.PŚ.
Przewodnicząca Komisji UiA PAN o/Katowice
Chair of the Town Planning and Architecture Committee
of the Polish Academy of Sciences dep. Katowice