Author: Aleksandra Weber
Published At: 09.06.2021
"O nauce po ludzku" (transl. "About science in layman's terms") - a competition for the academic community of the Silesian University of Technology
Popularization of science and explaining difficult scientific issues in a simple way is one of the tasks to be undertaken by the participants of the "About science in layman's terms" competition. Applications for the next edition can be submitted until 15 November 2021.
The competition for a popular science article "About Science in layman's terms" is addressed to the academic community. It is also open to individuals associated with the University, including employees, doctoral students, undergraduate and graduate students.
The works should be submitted by 15 November 2021. The competition results will be presented in December 2021. Registration form and regulations are available on the website of the Science Popularization Centre.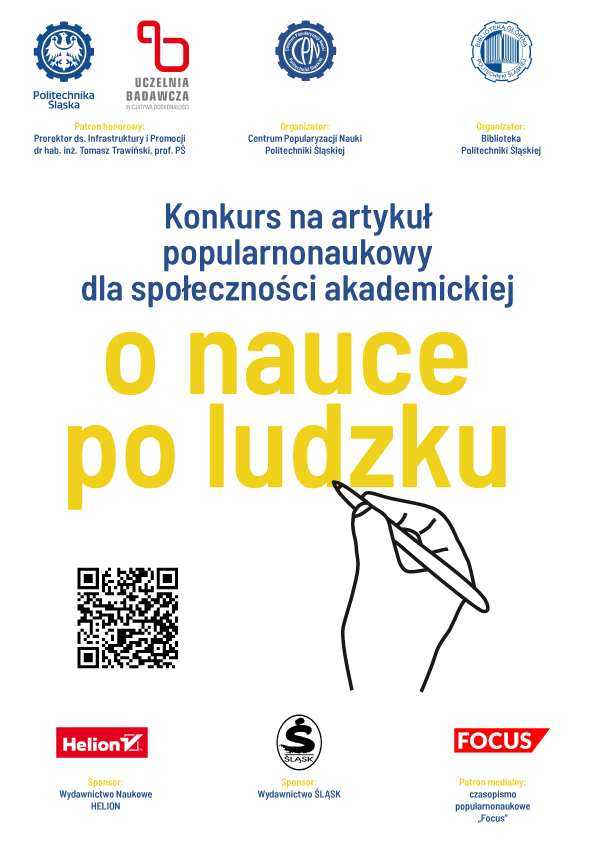 The event is organized by the Science  Popularization Centre at the Silesian University of Technology in cooperation with the Library of the Silesian University of Technology. The competition is held under the honorary patronage of the Vice Rector for Infrastructure and Promotion, Professor Tomasz Trawiński.