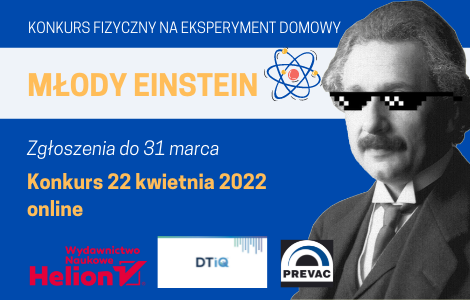 from 22-04-2022
from 10:00
Author: Anna Orłowska
Published at: 04.02.2022
Last update: 04.02.2022
Young Einstein competition for secondary school students
The next edition of the "Young Einstein" competition for secondary school students has started!
Applications will be accepted until March 31! The contest final will be held in a remote form on 22 April 2022. WE INVITE YOU! 
Rules of the competition and all necessary information can be found here
https://www.polsl.pl/.../konkurs-mlody-einstein-dla.../ 
The competition is organized by the Institute of Physics CND Silesian University of Technology, Silesian University of Technology, Center for Science Popularization and ZSO No. 8 in Gliwice http://www.zso8.gliwice.pl/.