Author: Jolanta Skwaradowska
Published At: 20.05.2022
The Silesian University of Technology hosted the EURECA-PRO Review Week
The representatives of eight European universities associated within the EURECA-PRO consortium came to Gliwice. The EURECA-PRO Review Week was held at the Silesian University of Technology.
Over 140 participants took part in the EURECA-PRO Review Week organised at the Silesian University of Technology. Among our distinguished guests, there were rectors of partner universities, scientists, students and representatives of the administration of universities associated in the EURECA-PRO consortium. On Tuesday, 17 May 2022, the inauguration ceremony took place at the Education and Congress Centre. The guests were welcomed by the Vice Rector for Science and Development, Professor Marek Pawełczyk.
- It's a pleasure to meet in the group of eight universities that participate in the EURECA-PRO European University programme. This is a very important initiative. In Europe, it is only 5% of universities which participate in such programmes. It is a great opportunity for students, doctoral students, scientists, and administration staff - said Vice Rector Professor Marek Pawełczyk.
The meeting, which will continue until 20 May 2022, creates an opportunity for the summary of joint tasks conducted within the consortium, and also to discuss plans for the nearest future. - This is primarily a summary of work conducted until now and determining the direction of activities for the following months. There is a large number of tasks to be covered. (…) It is a matter of developing joint curricula, setting out research goals for all member universities, and dealing with current problems, such as those arising from the war in Ukraine," says Professor Arkadiusz Mężyk, Rector of the Silesian University of Technology.
EURECA-PRO Review Week is the first such major meeting of the consortium partners. - Previously, similar meetings were organised at the project leader's premises,  at the University of Leoben in Austria. However, they were on a much smaller scale because the number of participants was limited due to the COVID-19 pandemic. Our discussions then were more subject-oriented, while now they are much more comprehensive - adds vice-rector professor Marek Pawełczyk.
As Susanne Feiel PhD, Eng., from the Montanuniversität in Leoben emphasised at today's inauguration, the principal goal of EURECA-PRO, i.e. the European University for Responsible Consumption and Production, is to work together and grow stronger. 
- We gathered here to review what was done in the past and to reflect on the future. It is very important to meet in person. We have learned especially in times of pandemics that it is very easy to work online, but to be able to develop new things, it is necessary not only to be creative but also to meet in person, says Susanne Feiel PhD, Eng. from the Montanuniversität in Leoben.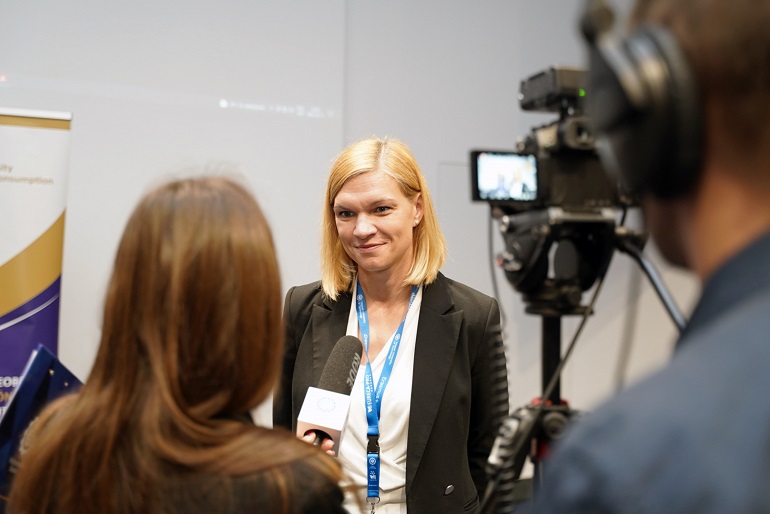 The students present at today's inauguration stressed that the EURECA-PRO consortium provides them with great opportunities. - It is a very good programme that brings together people from different cultures, different countries. We have the opportunity to study in other countries and this is the best possible thing that can happen to us - says Alexandros Theocharous from the Technical University of Crete.
The official inauguration of EURECA-PRO Review Week was also attended by Mariusz Śpiewok, the Deputy Mayor of Gliwice, and the representatives of the Upper Silesian and Zagłębie Metropolis. – In our organisation we've decided to support such events in order to build a strong academic centre which will be associated with a good scientific offer and, subsequently, with good workplaces and good public services," says Jacek Woźnikowski from the Upper Silesian-Głębian Metropolis.
The programme of this year's EURECA-PRO Review Week includes plenary meetings of the rectors of the partner universities and all thematic groups of the consortium discussing the so-far achievements of the European University and the perspectives for further development. On Thursday, 19 May, there was a discussion on the development of the scientific potential of the alliance, directions and areas of joint research and project activities of the EURECA-PRO scientists.
EURECA-PRO students and scientists participated also in the Sports Day - an event organised by the Science Popularization Centre "We support sport scientifically". The academic community will also have an opportunity to see a post-competition exhibition of children's and young people's works on ECO with EURECA.
The EURECA-PRO consortium (European University on Responsible Consumption and Production) unites 8 European universities: the Silesian University of Technology, Montanuniversität Leoben (Austria), Technische Universität Bergakademie Freiberg (Germany), Technical University of Crete (Greece), Universidad de León (Spain), University of Petrosani (Romania), University of Applied Sciences Mittweida (Germany) and Hasselt University (Belgium).  
Being part of the EURECA-PRO consortium provides advantages for students, researchers and doctoral students of member universities. Students have the opportunity to participate in joint study programmes and benefit from classes organised by lecturers from other countries at partner universities. Doctoral students may participate in joint doctoral programmes, while researchers may conduct various European programmes and apply for funding together.
EURECA-PRO Review Week at the Silesian University of Technology will last until 20 May 2022.