Author: Aleksandra Wojaczek
Published At: 15.03.2021
The employee of the Silesian University of Technology awarded by the German ambassador
Renata Pelka MA, the senior assistant in the Foreign Languages Centre of the Silesian University of Technology, was awarded by the German Ambassador in Poland for her commitment to building friendship and understanding between Poland and Germany.
On the occasion of the 50th anniversary of Willy Brandt's visit to Poland and his tribute in front of the Monument to the Ghetto Heroes in Warsaw, German and Polish citizens were awarded for their work in building Polish-German relations. This event went down in history for a gesture made then by the German Chancellor, who knelt on the steps of the Monument in Warsaw to pay tribute to the victims of German crimes. This situation became a symbol of recognition of German guilt and a sign of reconciliation between Poles and Germans.
The awarded persons received a set of commemorative coins issued to commemorate the symbolic gesture of the kneeling German Chancellor - "50 Jahre Kniefall von Warschau". Ms Renata Pelka, a senior assistant in the Foreign Languages Centre, was among them.
This award is a pleasant surprise for me and I am very happy about it. It means a lot to me and gives me a lot of satisfaction. It is a great honour to be here among 50 distinguished people. It is also an obligation for further work. I will do my best to fulfil it. The award gives me energy and motivation to continue and improve my ideas in further activities.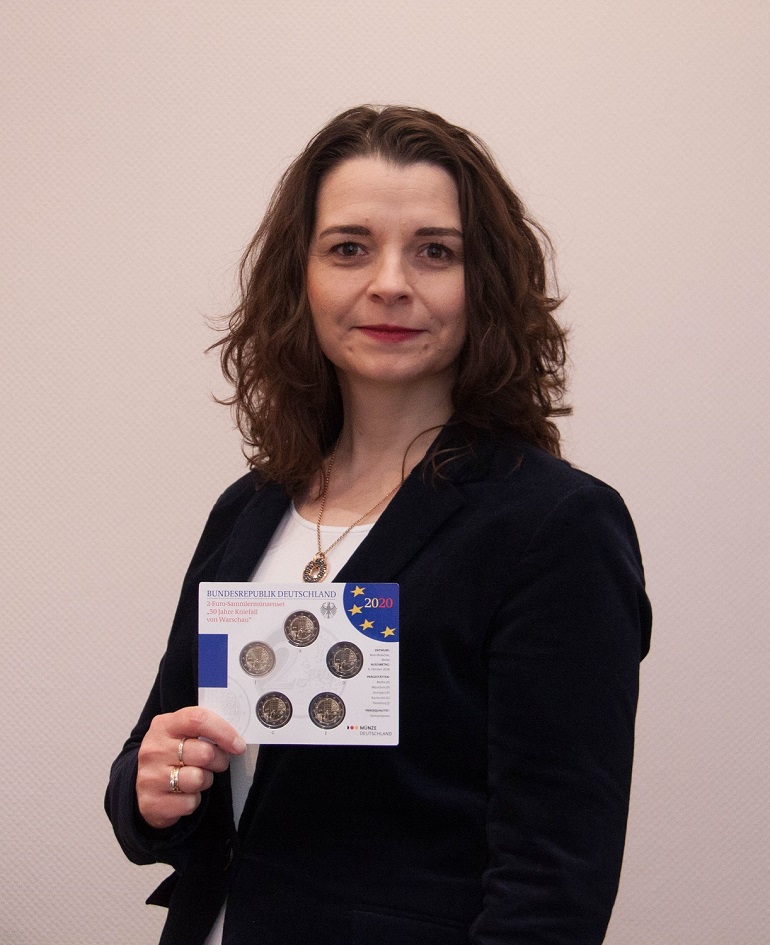 Renata Pelka MA, teaches German. As part of her classes, students have the opportunity to participate in international telecollaborative language projects. She is a member of the Main Committee responsible for the organisation of the National German Language Olympiad for Students of Technical Universities, the Council of the Centre, the Organising Committee of Conferences and Workshops organised by the Foreign Languages Centre, the CLIL and PBL Team.