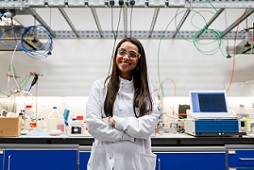 Author: System
Published at: 11.02.2021
Last update: 07.03.2021
International Day of Women and Girls in Science
In the fields related to engineering sciences, there is a significant number of women who respond to the challenges and research to increase scientific potential, influence the environment or the development of technology. 
Established in 2015, the International Day of Women and Girls in Science aims to emphasise the importance of women in strengthening the potential of research in various fields of science. It is also an inspiration for girls, future students who have to choose their career path. Some of them will decide to take a scientific path, including the field of engineering sciences. 
At the Silesian University of Technology, women with commitment and passion take actions and current challenges of science - including those related to sustainable development, innovative technologies, combining science with business or supporting people in education for professions of the future related to, for example, Industry 4.0. 
Female students, on the other hand, do not hesitate to study in fields of study or to carry out tasks in the areas that are often associated with "male" students. It is worth mentioning that among them there is training in the profession of a pilot or conducting scientific work concerning the architecture of space stations and issues related to space missions. 
On the occasion of the International Day of Women and Girls in Science, we cordially invite you to watch the report on the work carried out by women scientists at the Silesian University of Technology. The report is available on the YouTube channel of the Silesian University of Technology